Bemusing Ourselves To Death: 'Schofield in "Bloke off TV More Newsworthy Than War and Government Corruption" Shocker!'
Yes, it's the non-news story that hogged the headlines at the beginning of June for THREE WHOLE F***ING DAYS!
Twitter inevitably exploded with mindless commentary, with a plethora of IDGAFs and "who cares" to counter-balance all the inevitable, venom-coated exclamations of "nonce!" "paedo!" and "I always knew there was something about that Schofield bloke."
As for Holly Willoughby's ridiculous, painstakingly crafted 'speech' on her return to This Morning on 5th June? Well, quite frankly, it is well beyond parody. Delivered with the solemnity usually reserved for the death of a monarch, Willoughby starts by putting on her most doe-eyed, cute puppy face before asking the nation, "Firstly, are you OK? I hope so."
As Lord Nick of Nowhere tweeted: "Oh shut up Holly." 
Mark Choake asked:  "Christ!! Who's died!?" and David Banks was left wondering: "Crikey Moses, are we entering a national period of mourning?"
Willoughby said she felt "shaken, troubled, let down, and worried" for "the wellbeing of people on all sides of what's going on," adding: "You, me and all of us at This Morning gave our love and support to someone who was not telling the truth…  That is a lot to process… I think what unites us all now is a desire to heal for the health and wellbeing of everyone. I hope that as we start this new chapter and get back to a place of warmth and magic that this show holds for all of us, we can find strength in each other."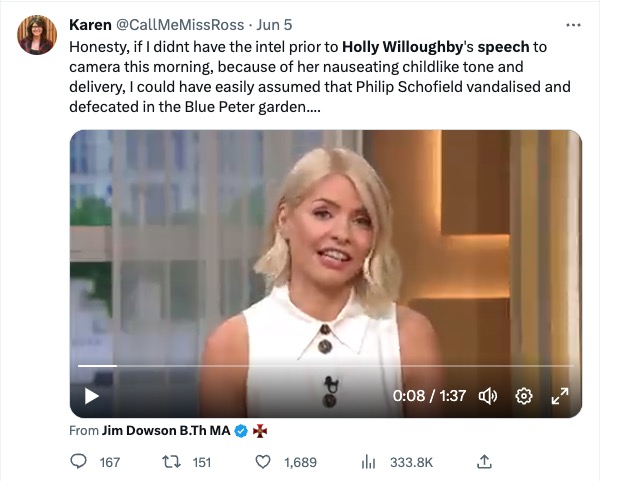 Excuse me while I throw up my muesli.
"I don't think I've seen anything quite as patronising as Holly Willoughby rocking up to tell us how we must be feeling." remarked a bemused viewer, whilst journalist Lucy Ford wrote: "I for one love to be talked to like a child who's just learned their family pet has been sent to a farm."
What does it say about us as a nation when the national media – press, TV, radio and social media – seem to regard this self-important drivel as headline news, when there are people killing each other and people plotting to kill each other all over the world? And exactly what was buried to make way for this preposterous shit-show over THREE WHOLE F***ING DAYS?!